UK car sales last year saw the biggest annual fall since the financial crisis, according to the industry trade body.
The Society of Motor Manufacturers and Traders (SMMT) said 2.36 million new cars were registered in 2018 down 6.8% on the previous year, the biggest drop since an 11% fall in 2008.
Diesel sales sank by 30% on worries over possible tougher restrictions.
However, the move away from diesel cars contributed to a 3% rise in the average emissions of CO2 by new cars last year.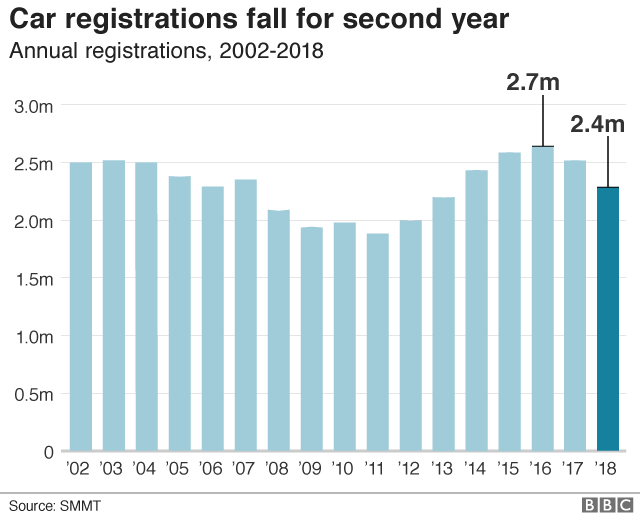 Diesel cars typically produce less CO2 than petrol vehicles.
A customer switch towards bigger cars, in particular SUVs, also contributed to greater average CO2 emissions.
While diesel cars produce less CO2 than petrol cars, they produce higher levels of nitrogen oxides or NOx, which are associated with breathing difficulties.
'Confidence problem'
The SMMT blamed last year's fall in cars sales - the second consecutive year that the market has declined - on uncertainty over Brexit and a shortage in supply of some vehicles due to a new emissions testing scheme.
SMMT chief executive Mike Hawes described those challenges as "something of perfect storm" for the industry.
Are diesel cars a health hazard?
What's going wrong at Jaguar Land Rover?
Economy slows as car sales fall
"What we have been seeing over the last couple of years is a decline in business and consumer confidence, especially the confidence to buy big ticket items like a new car," he said.
With sales of almost 96,000 the Ford Fiesta was the best selling car in the UK last year, the SMMT said.
The Volkswagen Golf was next, with sales of almost 65,000.